Les FrancoFolies de Montréal
Les FrancoFolies de Montréal tickets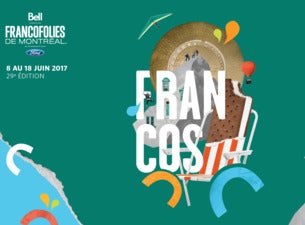 Summer is going to be exciting with the 28th edition of the FrancoFolies de Montreal!

Les FrancoFolies de Montréal, presented by Bell in collaboration with Ford of Canada finally reveal their new indoor program! From June 9 to 18, come join us in downtown Montreal and have fun with hundreds of artists, writers, musicians, composers and performers and several special events. This year's highlights include: Karim and Claude Bégin, Thomas Fersen, Groovy Aardvark and many more!

Tickets on sale now!
Sorry, no results found for 'Les FrancoFolies de Montréal'
Browse by Category