Sugar Sammy tickets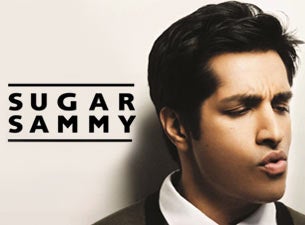 Now's your chance to see Sugar Sammy's historic show or offer it as a gift to someone special. It's Admission.com's overall Best Selling Show of 2014. With over 360,000 tickets sold and the Olivier award for Comedy Show of the Year, it's truly a runaway success.

The show is presented in a traditional stand up comedy club format. The approach is raw: just a microphone and a flurry of jokes and laughter for 90 minutes. Sugar Sammy engages the conversation directly with the audience and depending on the audience mood, he leaves his routine and adjusts its content like in a conversation creating a unique show every night.

Sugar Sammy has performed over 1300 shows in 30 countries in English, French, Punjabi and Hindi. This particular show is made to measure for Quebec and is presented in two versions: "You're Gonna Rire', Canada's first-ever bilingual comedy show and "En français svp!", the all-French version. Sugar Sammy presents his vision of an Indo-Quebecer raised modestly in Montreal's Côte-des-Neiges neighborhood who toured the world and FINALLY is discovering Québec regions.

Sugar Sammy won the Comedian of the Year award at both the 2013 and 2014 Olivier awards. In addition to Canada he has presented his show in England, Australia, Germany, Ireland, Holland, Hong Kong, Thailand, the Philippines, China, India, Bahrain, Jordan, Qatar, Egypt, Kuwait, Abu Dhabi, Lebanon, Singapore, Malaysia, Saudi Arabia, Dubai, New Zealand and South Africa.
Sorry, no results found for 'Sugar Sammy'
Browse by Category